Current Price –$9.4
Expected pay-off – $12.5 – $15
Upside – 30% – 50%
Expiration Date – Liquidation expected to be completed in 12 months
Background
After two years of pressure from activist shareholders New York REIT is liquidating its portfolio of 19 landmark office and retail buildings in Midtown Manhattan. Properties on the balance sheet are fully rented and have 9+ years of average remaining lease term. Company trades at 30%-40% discount to NAV and liquidation is expected to be finalized in 12 months. There is minimal downside risk as even very conservative RE valuation assumptions lead to positive return relative to today's share price. Appointment of new external manager and gradual distributions of liquidation proceeds will close the gap between NAV and the share price. And while investors wait for liquidation they are getting paid 5% in monthly dividends.
New York REIT has a world class portfolio of 19 landmark office and retail properties across Midtown Manhattan. These are very stable properties with high quality tenants and average remaining lease term of 9+ years. List of tenants for each property can be found here. Moreover, lease contracts with majority of the tenants were signed during/right after the crisis which resulted in rents being 10%-15% below the present market prices. Thus assets are potentially more profitable than currently appears.
Liquidation Plan
In August/October 2016 management announced plan of liquidation and issued Requests for Proposals to serve as NYRT's external manager (14 proposals received, one of which is from WW Investors). The company also reached settlement with activist WW Investors and 3 new independent directors have joined the board. Shareholder vote on liquidation is set for 19th of December and I expect it to be easily approved. New external manager in charge of liquidation will also be selected by the end of December. So the liquidation process will begin in Q1 of 2017 and the external manager in charge of it is likely to be far more incentivized in maximizing shareholder value than the current one. Liquidation process itself should be relatively fast and straightforward keeping in mind that Manhattan is one of the most liquid office RE markets in the world and that NYRT portfolio consists of high quality and almost fully rented assets. External adviser proposed by WW Investors estimates that liquidation should take maximum 12 months.
Valuation
For valuation purposes I split NYRT's assets into three parts: (1) rented properties, (2) Hotel Viceroy and (3) option to acquire 51.1% of Worldwide Plaza below market rates.
(1) Rented properties
I value rented properties based on NOI excluding Viceroy. In August management provided the below assessment on what is the expected normalized NOI on the existing portfolio: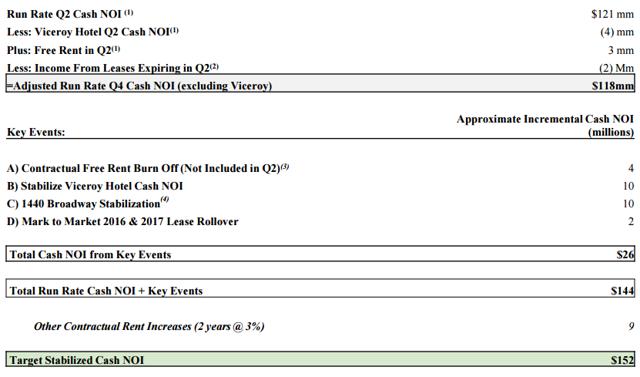 Any acquirers would obviously be more interested in potential NOI that the assets can generate rather than the current NOI. To arrive at stabilized cash NOI, management adds contractual rent free burn, contractual rent increases and stabilization of 1440 Broadway property. While I agree with the first two (these are in agreements with the tenants), the third seems more questionable keeping in mind that occupancy at 1440 Broadway has been declining over the last few quarters and management so far was not able to replace the leaving tenants. Excluding 1440 Broadway stabilization and Viceroy Hotel, I arrive at cash NOI of $132m.
Additionally, management and activist investors have repeatedly explained that current contractual rent rates are 10%-15% below market prices. Data from Manhattan Office Market rent review also show that NYRT rents are below market levels. Thus the $132m of estimated cash NOI is probably conservative and properties are likely to become more profitable when current leases roll-over.
For cap rates, recently office property deals Manhattan seem to be done at 4%-4.5% rates (here and here). At these rates and using $132m NOI the rented part of the portfolio would be valued at $2.9bn – $3.3bn.
(2) Hotel Viceroy
Hotel Viceroy is a 5 star hotel next to central park with 240 rooms. It was acquired newly built in 2013 for $148.5m, equivalent to price of $620k per key. As hotel was opened only recently, it still needs to reach full potential – occupancy during the latest quarter has improved from 86.4% to 90.4%. As the hotel at the moment generates only minimal profitability, NYRT has taken impairment on the property during the latest quarter.
When it comes to hotel prices in Manhattan each property is very specific and averages hardly provide any info (here are couple of examples of hotels fetching $1.5m+ per key valuations). Another source indicates that:
"Select service" properties such as Marriott Courtyards typically trade for between $400,000 to $500,000 per key, McConnell says, compared with $850,000 to $1 million per key for four-star properties which include restaurants and ballrooms."
With Viceroy falling somewhat in between 'Select Service' and 'Full Service' properties, the value of $620m per key looks reasonable – and thus historical cost ($148.5m) for Viceroy Hotel valuation looks appropriate.
(3) Option to acquire remaining 51.1% of Worldwide Plaza
NYRT purchased 48.9% of One Worldwide Plaza in 2013 with the option to acquire the remaining stake at $678 per sq. ft., which is significantly below the current market prices of office properties in Manhattan. Company has until the end of the year to exercise the option and it is already seeking to obtain new financing to execute this deal before starting the liquidation. The table below provides illustration of option value using various per square foot pricing points.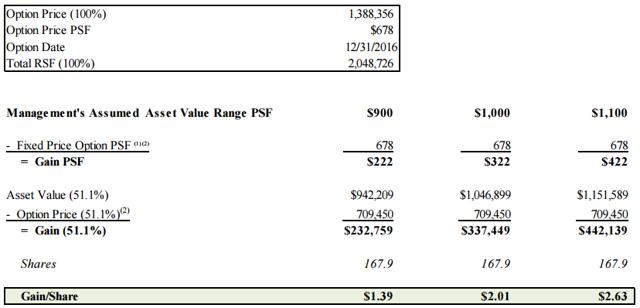 $1,000 per square foot sound like a conservative assumption for the landmark Manhattan building that is 100% rented with average remaining lease term of 12 years. Worldwide Plaza generates annual NOI of c. $84m (my estimate by adding depreciation to reported operating income), using cap rate of 4% (probably too high) results in valuations of $1,025 per square foot. Shareholder Rambleside Holdings argued that:
"NYRT owns an iconic New York City building in Worldwide Plaza. While rents are significantly below market due to unfavorable leases consummated in the depth of the recession, we see no reason this asset could not fetch $2.5 billion (or $1,200 per square foot), if marketed to the right buyer – a patient, long-term investor."
Thus $1,000 per square foot sounds really conservative. At $1,200 per square foot, the option to acquire the remaining stake would be worth $546m.
Sum of parts
The tables below show the total valuation of company's equity as well as per share price sensitivity using different assumptions for cap rate and per square foot price for Worldwide Plaza.
My conservative estimate of fair value is $12.47 per share or 32% upside to current prices. This estimate does not take into account that portfolio rents are currently 10%-15% below market value or that company's high quality and fully rented assets could probably easy fetch better valuations than 4.5% cap rate.
Even with high cap rate of 5% and $900 per square foot pricing for Worlwide Plaza the resulting NYRT valuation is still above the current market price ($10.17 vs $9.40). Thus even with overly conservative assumptions the liquidation would still result in 7% upside for shareholders. Due to already very low share price and high quality of assets downside risk for this trade is absolutely minimal.
NYRT equity valuation -sum of parts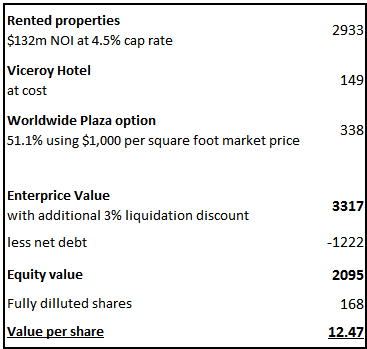 NYRT share price sensitivity to different assumptions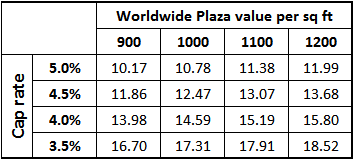 These valuation levels are also supported by a number of other data points:
In the presentation before the public listing, management estimated per share prices of $13.5-$16.2 if the company traded at the same FFO and AFFO multiples as peers.
Sorin Capital wrote that Company's shares were trading at more than 30% discount to their estimate of fair value, indicating expected valuation of $13.3 per share.
Gregory Cohen wrote that discount to NAV is 40%, indicating fair value of $15.5 per share. He also mentioned that "It's almost embarrassing NYRT trades at a 5% dividend yield (and an implied stabilized cap rate of 5.5%) when comparable Class A Office REITs trade closer to a 2% dividend yield and significantly closer to NAV"
Jonathan Litt indicated NAV of $14/share.
WW Investors using information provided by management arrived at liquidation NAV of $11.39-$12.31 per share. In the proposal to be external advisor, WW investors indicated that they would charge incentive fees only after distributions to shareholders reach $11/share. So WW Investors are willing to carry out the whole liquidation work for free if their assessment of fair value is incorrect.
In April 2014 NYRT launched tender offer to buy back 14% of the outstanding stock at $10.75. Yet the offer was significantly undersubscribed – majority of shareholder clearly valued the company higher and were not willing to use the liquidity event.
And finally during May 2015 conference call NYRT CEO explained:
"In the early days as a listed company, we had no sell side research coverage so, to help give direction to the market, we did estimate our own NAV which is, as you said at the time, I believe was at or around$12.49. Now that we have sell side research coverage, we're not going to estimate our own NAV publicly, but I will just comment that I think the market has only improved since that time – rents are up in New York City, cap rates are down, there is a lot of demand for real estate in the city."
Overall, I believe investors are making a very safe bet in purchasing NYRT stock at $9.4 – the chances of liquidation resulting in lower distributions than the current share price are very slim. Downside is well protected as even very conservative RE valuation assumptions lead to positive return relative to today's share price.