Current Price: A$0.375
Offer Price: A$0.40
Upside: 6%
Expected Close: Late September 2020
This idea was shared by Duncan.
On the 1st of June Australian fund registry Onevue Holdings announced acquisition proposal from financial software provider Iress. Consideration stands at A$0.40/share in cash. Given the size of the merger (A$107m), regulatory approval shouldn't be a problem. A majority of shareholder consent (main risk) is required and the meeting will take place in early September (scheme document will be despatched in August). Closing is expected shortly after the voting.
This is a strategic deal, while the businesses of both firms are stable and nearly unimpacted by the COVID-19. The buyer seems credible and has already raised A$150m in equity financing to partially fund the transaction.
So the main caveat here is that the largest shareholder Thorney Technologies (owns 17%) has stated that the price undervalues OVH and is not satisfactory. 2/3rds of Thorney stake have been acquired in 2016/2017 significantly above the offer price (A$0.50-$0.70/share), while the remaining part has been bought this year at A$0.20-A$0.30/share levels. So overall, Thorney sits on considerable losses currently. Despite that its claims (with no details or arguments provided) as well as the comments from the executive director are quite strange and suggest that this could possibly be more of a move to attract other potential bidders than the outright rejection of the offer. Thorney:
I think Connie's [chief director] done a great job operationally, perhaps not as good at explaining her story to the investment community [and] that left the opportunity for IRESS which is a good business itself to come in and I think be opportunistic.
Chief executive commented:
I am a believer in free markets and if people think  it's too low, someone will step up with an offer. You have to remember, there is a pre-condition that it [the offered price] has to reviewed by an independent valuer who decides if the price is fair
Management and another major shareholder Abtourk (chief executive's husbands' company) support the transaction with 16% of combined ownership, so the required percentage of shareholder's support remains unchanged (50%).
It is also worth mentioning that 4 other major shareholders seem to have a different point of view than Thorney and liquidated their positions at a much lower price this year. Moelis Australia – owned 5%. Ceased to be a substantial holder following OVH price spike after the offer announcement (A$0.375/share).
Moelis Australia – owned 5%. Ceased to be a substantial holder following OVH price spike after the offer announcement (A$0.375/share).
Commonwealth Bank of Australia – owned 6.27%. Ceased to be a substantial holder on the 21st of May (A$0.21/share).
Mitsubishi UFJ Financial Group – owned 6.17%. Ceased to be a substantial holder on the 26th of May (A$0.22/share).
Onevue
Onevue businesses include fund services (63% rev.), which consist of managed fund administration (FUA = ) + superannuation administration services (FUA: ) and also the platform services (37% rev.) for funds and asset managers.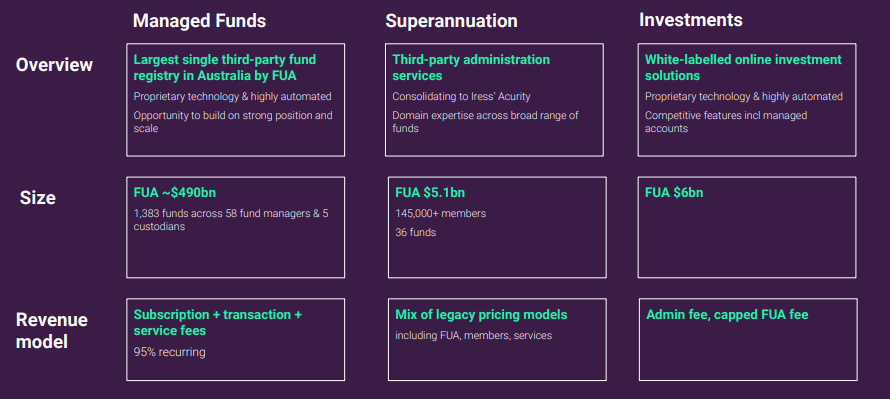 93% of total revenues are recurring, while a majority (more than 67%) is not sensitive to market movements as fund services are driven by the items processed (fund administration) and the number of members (superannuation) rather than the FUA (funds under management).
In Q1 (Mar'20) the company stated that the business is performing well and despite the 8% drop in FUA, the amount of items processed has increased by 29% YoY and 3% QoQ.
The company has taken a significant hit in 2019 after the buyer of its Diversa trustee business (sold in June'19) has deferred a major part of the consideration (A$31m) and eventually went bankrupt. $26m of the receivable have been written off this year. In Feb'20 OVH has managed to extract certain payment in the form of share ownership in two Sargon (the buyer) companies. Both of the stakes were sold for a combined A$9.5m, however, the amount OVH will be able to receive from these sales is not clear as the company is now litigating with one of the Sargon's lenders (to see who's claim is senior).
Iress stated that they've conducted extensive due diligence and believe that the current offer appropriately reflects the matter with Sargon.
Iress
Iress provides software for financial service companies:
Global market data and trading
Investment management (portfolio management, order execution, analytical tools).
Financial advice (client management, automation, etc.).
Superannuation (fund registry).
etc.
90% of the revenues are recurring and so far Iress states (June presentation) that it "has not seen material impact as a result of COVID-19".
So overall the strategic fit is sound here and will allow to connect OVH administration and investments business with Iress software and also provide certain cost synergies (software license fees, board/ listing costs, etc.). Worth mentioning that both companies have in fact been working together before as OVH was transferring its superannuation business on Iress' acuity platform.
Recent acquisitions of Iress (since 2015 has done 9 mergers including OVH):
May'19 – QuantHouse (market data and trading infrastructure) for EUR 39m.
Jan'20 – BC Gateways (blockchain platform).
2018 – Pathway (software).
2016 – Financial Synergy (superannuation software) for A$90m.