Current Price: $0.21
Target Price: $0.70
Upside: 250%+
Expiration Date: 2025
This is quite an unusual and fairly interesting idea that was published on VIC in August 2019. Please refer to it for more background on EMGC and life settlement insurance industry. The thesis remains largely the same, however, some important developments have happened over the last couple years. Worth noting that our knowledge of certain nuances in this situation is limited, including the life settlement business itself and various aspects of the trading shift to Vienna MTFs, where the company is due to relist shortly. Thus, any input from more knowledgeable SSI members would be very much appreciated.
A quick note on the industry – life settlement insurance business involves buying a portfolio of different policies and paying the premiums till the policies mature. i.e. till the insured individual dies. Such individuals are often very affluent and have entered very juicy insurance policies, therefore the average death benefit per policy is high – $4.7m in the case of EMGC portfolio. However, the average premiums are also substantial – $17k/month. The insured individuals might decide to sell their insurance policy to the likes of EMGC if they want to cash-out or are unable to continue paying premiums. Although it doesn't sound very nice, in this business investors win if the insureds die sooner than it would take to turn the NPV of the policies negative.
Emergent Capital is a hold-co, which owns 27.5% in a run-off portfolio of life-settlements. The portfolio has 500 remaining policies with the remaining face value of maturities at $2.4bn and the average age of insureds at 85.9 years. EMGC stake in the portfolio has an actuarial fair value of $153m, which translates into a book value of $0.34/share. This fair value was assessed using a discounted cash flow model, which involved various actuarial estimates, the most important ones being life expectancy of the insureds and the appropriate discount rate (EMGC is using 14%). Thus, if these estimates are correct, you're buying EMGC at a 39% discount to its intrinsic value. However, several aspects indicate that the actual value of EMGC stake could be significantly higher – one scenario outlined below shows a potential upside of 250%+. Margin of safety seems sufficient and the downside is protected due to the current hold-co structure.
The situation also accommodates an "unexpected surprise" factor, or an option style bet, where the number of maturities could randomly skyrocket during a particular period sending the share price upwards the way it has already happened during the COVID-19 outbreak when the stock went up from $0.20/share to $0.40/share in a short period of time. Such an event could provide considerable returns with a much shorter time frame.
Management owns 50% of the company and in recent years has done a great job saving and transforming a grossly mismanaged EMGC. Their stake and commitment here add confidence for positive outcome.
It is important to highlight that the company is in the process of restructuring. The current OTC listing will be canceled and the company will relist on Vienna MTF – multilateral trading facility managed by Vienna Stock Exchange. It is not yet clear how the shift will happen and how exactly smaller retail investors with no abilities to hold Vienna-listed MTFs will be treated. Shares have already dropped 30% upon this announcement, but there might be a further forced sell-off upon the actual relisting providing better opportunities to enter this trade.
In short, the whole EMGC investment case (in excess of the 39% discount to BV) rests on the insureds dying faster (at least in short term) than indicated by the actuarial life expectancy estimates baked in the valuations of the portfolio. It is best to look at EMGC as a very long-term option that might or might not pay-off, but if it does, the returns could be juicy.
Quick background
From its inception in 2011 till March 2017 EMGC was run, or it might be more correct to say, mismanaged by Antony Mitchell – CEO with a proven track record of value destruction. The management constructed an ill-balanced portfolio aiming to visually inflate the potential returns and went on promoting the stock while keeping high levels of SG&A. Eventually, the liquidity went dry and the company started issuing equity, expensive debt and even sold-off 45% of their future maturities to fund the ongoing operations. Then in 2017, the company announced a recapitalization transaction and Mitchell resigned several months after that. A bunch of investors together with the current CEO Patrick Curry injected capital and took a 70% stake in EMGC. Nonetheless, the portfolio's insureds proved to be incredibly healthy and just continued on living. Due to lack of maturities, the company ran out of cash again, and in 2019 announced another reorganization with Jade Mountain Partners (JM) – 72.5% stake in White Eagle SPV (special purpose vehicle which held the portfolio of the insureds) was sold to Jade Mountain, with EMGC retaining 27.5%. JM also covered White Eagle's debt, took over the management of the SPV, and agreed to finance all future policy payments. As a result of the restructuring (lowered SG&A and interest expenses) and increasing maturities, EMGC finally started delivering positive cashflows in Q2'19. Since then, the number of maturities continued to increase and were further escalated by the COVID-19 tailwinds.
Portfolio details
The whole life settlement insurance portfolio is held by the special purpose vehicle White Eagle. EMGC owns 27.5% of White Eagle, while the remaining 72.5% belongs to Jade Mountain.
Current portfolio overview:
The aggregate death benefit is $2.4bn. As of Q3, EMGC estimates fair value (NPV) of the total portfolio at $663m. Fair value of its 27.5% stake is estimated at $153m, including a certain amount of debt at 11% interest to be repaid to JM through waterfall distributions (more details below). Fair value is recalculated each quarter and since Q2'19 it has doubled from $77m to $153m in Q3'21.
Portfolio's NPV is estimated using a DCF model. For the remaining life expectancy of the insureds, the company uses actuarial estimate tables from third-party companies. Portfolio split by remaining life expectancy is provided below:
For discount rate EMGC uses mid-teen rates with an average of 14.04%. As can be expected, even a small change in the discount rate would make a very significant effect on the EMGC's portion of the portfolio NPV (e.g. 0.5% decrease in the discount rate, pushes up the fair value of EMGC's stake by 2.6%) and even larger effect on EMGC book value due to high leverage at the hold-co level.
Overall, it seems fair to say that both life expectancy estimations and the discount rate could prove to be conservative. Most insureds are already very old, while the remaining 6.6 years of life in the actuarial tables seems to indicate that quite a lot of them will live up close to 100 years. The chances are, that on average they might pass away faster than that. There's not much to say regarding the discount rate, only that 14.04% average seems like a stretch, and assuming a bit lower rate, the real fair value would end up materially higher.
Waterfall distribution structure
All proceeds from the maturity payments are collected by White Eagle and first of all, are used to cover all of the upcoming premium payments. The remaining amount is then set to be distributed among the SPV owners proportionally. Distributions are to made on the 5th day of each month.
Upcoming premium payments for the SPV are provided below (in thousands). 2020 refers to Q4'20:
If there are not enough maturities to cover the premiums, the deficit then has to be covered by JM and EMGC proportionally. However, during 2019 Jade Mountain has agreed to finance any future premium payments also on behalf of EMGC an interest rate of 11%. This structure protects EMGC from any direct exposure to premium payments, however, the amount including any accumulated interest that gets covered by JM on EMGC's behalf then has to be repaid through the waterfall structure.
Distributions structure:
Insurance premiums are the highest priority. Collected maturities are first of all used to cover the upcoming premium payments and certain facility expenses (the required amount is transferred from the collections account to the premium/expense account).
The remaining amount from maturity payments is distributed proportionally between JM and EMGC.
Part of the agreement under the waterfall structure was that for the first three years EMGC will receive a guaranteed payment of $8m annually from the maturity proceeds and $4m/year in the next seven years. After the first three years (with $8m payments), further $4m payments will be prioritized to repay the outstanding $8m loan from JM (see the point below). These guaranteed payments ($8m first 3 years and $4m next 7 years) to EMGC will occur regardless of maturities, however, they are subordinate to the 11% JM interest payments.
Following the JM agreement to finance future premium payments, in August 2019, JM advanced $30.1m to the premium/expense reserve account ($21.8m on its own behalf and $8.3m for EMGC at an 11% annual rate). So far due to increased maturities, death benefits were enough to cover the premiums, and no further advances from Jade Mountain were required. The $8.3m is to be repaid through the waterfall distribution from amounts to be distributed to EMGC. So far, no payments with respect to this debt have been made and $1m unpaid interest has already accrued.
Additionally, in 2019 JM advanced EMGC $15.25m at an 11% annual rate. It seems that about $8m remains outstanding.
Overall, the current structure protects EMGC from covering the insurance premium deficit. After the JM loans ($8.3m and $8.0m plus interest) are repaid, EMGC will have direct exposure to 27.5% of further maturity proceeds, including the guaranteed $8m payment for one more year and $4m in the seven years thereafter.
Ongoing Restructuring
One of the major risks for EMGC was its $47m senior debt due in July'21. For that, the company has filed for a voluntary Chapter 11 in October'20 with a plan to reorganize. The docket and the restructuring plan can be found here and here. A short Q&A can found here.
Certain details of the proposed restructuring:
EMGC will continue its operations through its current Irish subsidiary Lamington, which owns 27.5% stake in White Eagle. All US operations will be wound up (including the OTC listing). EGMC common stock together with its new Series A and Series B notes and Trust Certificates (see below) will be listed on the Vienna MTF (multilateral trading facility).
Common stock of EMGC will get exchanged for new profit participating notes ("PPNs") that will be equal in value to the common stock. EMGC will form a grantor trust and those PPNs will be exchanged into Trust Certificates, which will trade on Vienna MTF.
$47.6m senior debt (8.5% interest) will be exchanged for new Series A notes ($100 in value of senior notes for $104 Series A). Additionally, if the notes won't be repaid by July'21, the interest rate will go up to 9.75%. The maturity date is fixed for 100 years.
$67m convertible debt will get exchanged for new Series B notes. Each $100 in value of the convertible debt will receive $100 of the new Series B notes plus 10 the new Trust Certificates. This will result in about 4% dilution to the current shareholders.
Current debtholders holding less than $125k of debt will get cashed out at par. Unfortunately, it seems that the debt is not traded.
New management structure will consist of the trustee plus 5 board members (vs current 8 board members plus chair/CEO). Together with the potentially cheaper listing, this should further reduce SG&A expenses.
The restructuring plan has already been approved by the court. The emergence was expected to take place by the end of 2020, however, it has not happened yet. The newest filing (Jan'21) indicates that preparations are still ongoing and the exact date has not been set yet.
Historical portfolio maturities
Unfortunately for EMGC, insureds in the portfolio proved to be incredibly healthy and despite high average age, the number of maturities over the years used to be just barely enough to cover the premium payments, which resulted in a significant cash burn after interest and SG&A payments.
The table below provides an overview of the White Eagle SPV maturity benefits/premium payment balance since 2017. Keep in mind that the actual liquidity situation was worse than might be expected from the data below as it usually takes time to collect the maturity payments and only a part of it is collected in the same period (other remain as receivables).
Note: apparently there were no maturities in Q4'19. The report also indicates that they did not pay any premiums in that quarter, which seems very unlikely. Possibly, there might have been some kind of mistake involved in Q4'19 reports.
Till Q2'19 EMGC's total hold-co level expenses (mostly SG&A and interest) amounted to $12m/quarter and the company was burning material amounts of cash. Currently, at SPV level admin expenses have been reduced to c. $1.5m/quarter – i.e. JM's management fee of 85 bps of White Eagle's NAV.
At EMGC hold-co level, due to lowered SG&A and increased maturities for the first time in many years the company turned to profitability in Q2'19. Over the next several quarters, expenses varied around $4.5-$7m and were likely elevated due to various one-off reorganization costs. Overall, EMGC is currently operating at the brink of breakeven. Assuming the level of maturities remains stable, the ongoing restructuring should lower SG&A further and could finally bring the company to consistently above breakeven level. Any further increases in maturities would strongly catalyze this as well.
Valuation
Due to the lack of information and no visibility on individual policies (juts portfolio aggregates), the precise modeling of the portfolio is not possible. Instead, a simple thought process and some back-on-the-envelope calculations seem to indicate that it's quite likely that the potential value of EMGC's stake in the portfolio might be significantly higher than the actuarial fair value shown in financial statements. The calculations below were done using a similar approach to the one on the VIC write-up.
The essence is that given the COVID-19 tailwinds and upcoming SG&A cut EMGC should be able to reach consistent breakeven going forward if the amount of maturities remains stable. If that happens and the company manages to avoid any further cash-burn or debt increase, then it's just a matter of time until a more material breakthrough in maturities is reached. After all, the average age of the insureds is 86 years and it's only fair to assume that they should begin to pass away much faster going forward. So if EMGC manages to stay afloat for, let's say, the next 4 years, the average age should get close to 90, and at that point, the whole thing should already be on a fast-track to cash conversion.
EMGC indirect and direct expenses:
Premiums – supposedly 27.5% of the total amount paid by SPV. However, premium payments are automatically covered by the maturities, so EMGC doesn't have any direct expenses here. However, in case the maturity receipts fall short of the needed amount, EMGC's part will be financed by Jade Mountain. This would make an impact on EMGC debt and interest payments, which will then have to be covered from the future maturities through the waterfall structure.
Current debt to JM – $9.3m (with already accrued interest) and $8m at 11% interest to be repaid through the waterfall structure. When calculating the face value of their 27.5% stake in the portfolio, EMGC takes into account this debt to JM – current face value is stated as $152.5m vs $182m which would be the actual 27.5% of $663m NAV. So for the sake of simplicity, let's assume the total amount, including the future interest, to be paid here is $20m.
Interest payments on EMGC hold-co debt. The amount used to be around $10m-$11m/year, however, will probably increase slightly with the new restructuring and debt forbearance. Let's assume $11.5m/year going forward.
SG&A. After portfolio management was taken over by JM, EMGC's admin expenses stood around $3m/quarter with the lowest payment of $2m in Q2'20. Q4'20 and Q1'21 might be elevated again due to ongoing restructuring, however, going forward, expenses are likely to be lower after all of US admin functions are eliminated. Let's assume the amount will be $6m/year.
In order to assess how many maturities are necessary for EMGC to breakeven over the next 4 years, we firstly look the number of maturities required to cover all the upcoming SPV premiums until the end of 2024:
Then we calculate what additional surplus of maturities would be needed for EMGC to breakeven (guaranteed payments minus the expenses). For the sake of simplicity, repayments of debt to JM are divided equally between the periods:
Finally, we add up the maturity numbers to see the total amount needed for this scenario to play out as expected: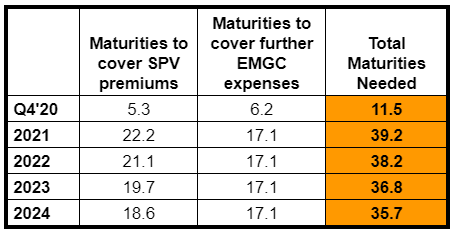 Given the recent increase in deaths, 35-40 maturities per year seem quite possible going forward. In 9M of 2020 alone the amount of deaths reached 33, so just slightly short of the annual requirement for breakeven scenario.
Assuming maturities happened as outlined in this scenario, at the end of 2024, the portfolio would still have 338 policies left with a total death benefit at $$1.6bn. At that point, EMGC BV would be:
Note: Share count in the first column includes currently outstanding shares of 158m, new shares to be issued to Series B note holders upon restructuring agreement, as well 17m shares to be issued upon exercise of 17m warrants that are currently exercisable at $0.2/share. The share count in the second column additionally includes the conversion of $67m Series B notes at $0.5/share price as well as 25m shares to be issued upon exercise of 25m warrants that vest only upon the conversion of Series B notes.
Note 2: the remaining death benefit and remaining premiums in the table above would need to be discounted to arrive at fair NPV at the time, but as detailed data for that are not available, such simpler undiscounted calculation should at least directionally be correct.
In this scenario, EMGC BV at the end of 2024 would stand at $0.70/share offering 250% upside from the current prices. At the same time, there is a good chance that this scenario will prove to be conservative and a material increase in maturities would start sooner than in 2025. This would make a significant impact on the eventual upside due to faster debt repayment and reduced interest expenses. Also, all calculations above exclude the current White Eagle reserves of $31m ($8.5m would be attributable to EMGC) and EMGC cash of $12.7m (Dec'20).
The downside seems to be well protected as it's quite unlikely that the number of maturities would decline substantially below current levels. Moreover, the premium financing agreement with JM adds further protection in case of any short-term fluctuations in the maturities. Overall, the estimated BV at the end of 2024 (plus the current reserves and cash) provides a sufficient margin of safety to tolerate any potential maturity fluctuations and some additional interest accrued for JM debt.
With all of that, keep in mind that the "unexpected surprise" factor is very much at play here and for example, if any given quarter/time period the number of maturities would skyrocket (for no reason), it would likely push the share price up considerably.
Uncertainties
Listing on Vienna MTF. This is a strange move seemingly aimed to reduce SG&A and provide some tax efficiency. Our knowledge here is limited. Vienna MTF is an unregulated facility mostly used by European firms to efficiently list their bonds. Existing EMGC shares would be exchanged into Trust Certificates, that are equal in value to the commons. Overall, this adds some uncertainty, especially towards the liquidity and future reporting/visibility into the performance of the company. EMGC liquidity is already quite limited, so a transfer to a European MTF is likely to make a further negative impact on the future trading volumes.
Also a big risk factors is a potential further sell-off before or after the company re-lists on the MTF as many investors might be unwilling or unable to hold European Trust Certificates in their portfolio. Some of them have apparently exited already – after the announcement on the 16th of October, EMGC price fell from $0.35/share to $0.25/share (current levels).
The number of maturities might turn out to be lower than expected going forward and might not be enough to cover premiums. This would burden the EMGC with additional debt from JM (as JM would cover any SPV's cash deficit on behalf of EMGC) and this debt would continue to accumulate at a high 11% interest rate until repaid from future maturities in the waterfall structure. Such a scenario of low maturities in the upcoming few years would significantly reduce the upside. However, the margin of safety seems high enough to tolerate this risk, even if such a situation extends for several years.
SG&A expenses might turn out to be higher than expected. However, management has been cutting costs for a few years now and the new structure after the restructuring should result in material additional savings.
There is little information available on Jade Mountain (owner of 72.5% remaining portfolio). It's not clear if JM will has sufficient resources to be able to cover a significant amount of premiums for a prolonged amount of time if maturities were to decline.