Current Price: $2.1
Target Price: $3.25
Upside: 50%+
Expiration Date: Q2'23
This idea was shared by Jordan.
Enzo Biochem announced on March 16th that they entered into an agreement to sell their Clinical Laboratory Services segment to LabCorp (LH) for ~$146m. This sale transforms the financial profile of the business as the company is currently a going concern, and the CLS segment was responsible for the vast majority of the cash burn. The remaining portion of the business is the company's "Products" segment, which the company also refers to as its "Life Sciences" business. Even if the products segment was worth $0, the $146m coming from LabCorp is worth ~$2.94 / share versus the stock today at $2.10.
There are two gating factors that need to take place for the transaction to close, shareholder vote and HSR review, both of which I expect to pass easily.
Remain Co: Enzo Life Sciences / Products Segment
The remaining business, Enzo Life Sciences, "manufactures, develops and markets products and tools for clinical research, drug development, and bioscience research customers worldwide". Barring 2020 and the impact of the pandemic, this business does ~$30m of revenue annually and is close to breakeven. According to management, it belongs to a $10bn TAM that is growing in the upper single digits. As highlighted on the last earnings call, ENZ has just begun to launch new products that will allow them to further penetrate higher growth areas of the market. Additionally, management is reducing the cost structure of the business, which will improve margins; they recently consolidated the geographical footprint of the products segment to a single location. Management was clear on the last call that the business will grow, and they will generate higher gross margins and operating leverage over the fixed cost infrastructure: "These efficiencies and cost improvements, coupled with a fixed cost leverage from expected volume growth, combined with higher margin new products provide us with the opportunity to expand margins, while growing the business leading to better profitability."
The recent earnings release on 3/20/23 shows that the sale of the Clinical Labs division does not conclude strategic alternatives for the business. According to the release, "the transaction positions Enzo to consider strategies to maximize the potential and value of the company's remaining assets, including the Enzo Life Sciences segment." I would not be surprised if this segment was also divested as a part of the strategic alternatives process.
Shareholder Vote
Enzo's history provides some context for why I think a 50% majority will be relatively easy to reach. There has been significant activism in ENZ's history. Key players include Roumell Asset Management (RAM), led by James C. Roumell, and Harbert Discovery Co-Investment Fund, led by Kenan Lucas. A partial history of the activist efforts of Harbert and RAM funds from 2019 and 2020 is detailed in an activist investor presentation easily found in RAM's 13D filing on December 30th, 2020. Additionally, management and the board's prior sins were detailed by RAM in the same investor presentation on slide nine and in numerous investor letters from both RAM and Harbert. These sins include significant underperformance relative to ENZ's peers, poor governance, related party transactions and undisclosed related party transactions, excessive compensation, and an entrenched board that essentially ignored shareholders' requests when they voted against the reelection of Dr. Elazar Rabbani to the Board of Directors. Refer to these shareholder letters for more details: Harbert Discovery Fund letter 10/27/21, RAM letter 5/5/21, RAM letter 1/14/21. As part of their efforts and as documented in the letters, both activists requested that the board hire a financial advisor to evaluate strategic alternatives. Almost four years later, shareholders are finally seeing some value created. These two parties alone represent almost 15% of shares outstanding. Additionally, officers and directors of the company have agreed to vote the shares they beneficially own, which represents 11% of shares outstanding according to the 8K filed on 3/16/23. Lastly, if the transaction does not close, ENZ shareholders are left with a going concern and a stock that was trading at ~$1.11 prior to the deal announcement; shareholders should want this sale to take place. Importantly, within the Asset Purchase Agreement, there is an "Aggregate Ticking Fee." The ticking fee requires that after the Shareholder Approval Date, Labcorp is required to pay ENZ $75k / day up to $7m until the transaction is closed or terminated. ENZ has a very significant incentive to expedite the shareholder vote to further support the balance sheet.
HSR Review
To evaluate whether the sale harms the competition, we need to know what the CLS segment is and why Labcorp wants it. The Clinical Laboratory Services segment includes a CLIA (Clinical Laboratory Improvement Amendments of 1988) certified lab based in Farmingdale, NY, which also includes "a network of over 30 patient service centers throughout NY, NJ, and Connecticut" as well as "two free-standing "STAT" or rapid response laboratories in New York City and Connecticut, an in-house logistics department, and an information technology department" (ENZ 10-K FY'22). The value of the asset to LabCorp is mostly geographic and was clearly highlighted by Bill Haas (VP of Labcorp Diagnostic's Northeast Division) in the transaction press release: the acquisition of Enzo's CLIA lab allows Labcorp to "bolster [their] commitment to the New York Tristate healthcare communities."
Why does this transaction not harm competition? There are 322,312 CLIA labs registered with the CDC; of those, 14,050 registered CLIA labs are in NY. However, CLIA labs that have a Certificate of Compliance (like ENZ's CLIA lab in Farmingdale, NY) can conduct moderate and/or high-complexity testing. There are 16,652 CLIA labs registered with the CDC that have a Certificate of Compliance. In New York, there are 1,424. As a part of Enzo's network, Enzo has 2 Independent Clinical Labs that have a Certificate of Compliance. Labcorp also has 2. It seems obvious that this acquisition does not harm competition in the US broadly or in NY specifically.
Taxes
Although we don't know the book value of the CLS segment, we do know that ENZ had Federal NOLs of ~$96.7m and state and local NOLs of $38.1m on 7/31/22. Additionally, operating losses have continued subsequent to the last 10K. Moreover, ENZ did provide one clue to estimate the book value of the Clinical Laboratory Services segment. According to the 10K, Enzo's own estimate of fair value of the "reporting unit exceeded the carrying amount of the reporting unit by approximately $55m." With this clue, we can estimate the book value of the CLS segment with significant assumptions. We believe that the assumptions we are making are extremely conservative. The 10K highlights that ENZ's goodwill balance is held in the Clinical Labs reporting unit. Therefore, the company, when evaluating impairment, assesses the fair value of the reporting unit and compares it to the carrying value to determine if goodwill is impaired. ENZ's process is a bit unusual. ENZ computes the fair value of the Clinical Labs reporting unit by "determining the multiple of enterprise value to revenues for a peer group of clinical reference labs, discount[ing] that multiple, and [applying] it to [their] reporting unit's annualized revenues." With significant assumptions, we can replicate this process. We are not 100% certain who the company considers their peer group or the discount rate they use; however, we can make some assumptions and sensitize them. Regarding the peer group, ENZ's 12/2/21 proxy lists the following as ENZ's peers: "Harvard Bioscience Inc., Invitae Corp., Meridian Bioscience Inc., Myriad Genetics Inc., Nanostring Technologies Inc., Natera Inc. and Pacific Biosciences of California Inc." Using the CDC's website, we can ascertain that only Invitae, Myriad Genetics, and Natera have CLIA labs. At the time of ENZ's 10K, those three companies were trading at ~2.9x EV/annualized revenue. Although ENZ had annual revenue of $74.4m in FY'22, Q4 revenue annualized was only $49.5m. If we apply a 20% discount to the EV/Revenue Multiple, we compute a "Fair Value" of ~$116.6m. If this "fair value" was $55m above carrying value, it would imply a carrying value of $61.6m. Therefore, the $146m Labcorp transaction would create an implied gain of $84.4m. If we use a larger discount, the gain becomes larger. Importantly, we assume that the NY State Corporate Income Tax is 8.85% for purposes of this analysis. We are not tax experts, but this is at the upper end of the base rates they provide. Below is a table that shows our work and provides a sensitivity analysis for changes in the discount rate. For purposes of valuation, we will assume a 20% discount rate and ~$4.1m of taxes.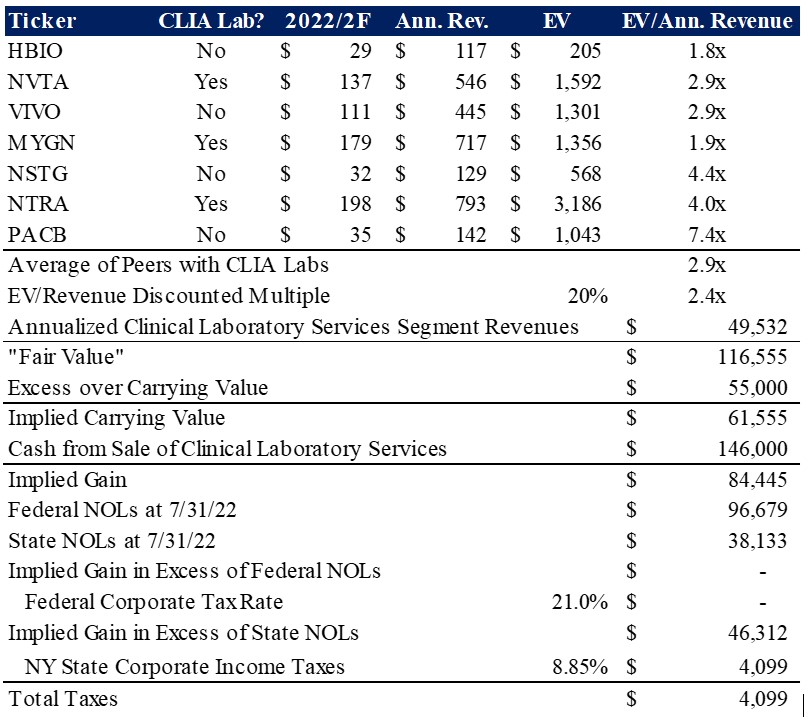 Liquidity
Because the balance sheet is thin, on 3/10/23, the company signed a commitment letter that gives them access to an $8M revolver at SOFR + 5.5%. In addition to the ticking fees, which will help, the company can use the revolver to get them to the transaction close.
Valuation
Our valuation takes a sum of the parts approach. The two parts are the balance sheet at the time of close and the products segment. We have provided a sensitivity analysis below that flexes our assumptions around the number of months to close the transaction and the EV/Revenue multiple for the Products Segment. Regarding cash burn, our assumption is that cash burn is roughly consistent with the ~$7m / quarter currently happening, and our base case is that the transaction closes in June. Regarding the Product Segment, there are numerous publicly traded Life Sciences companies that sell instruments and various consumables including reagents and kits, including QGEN, QTRX, CTKB, CERS, TBIO, and BIO. This larger comp set has multiples that range from .8x '23 Revenue to 5.38x '23 Revenue. The smaller-scale companies are QTRX, CERS, and TBIO. QTRX has significant consumables mix, significant cash burn, and slow growth, and it trades at 1.37x '23 Revenue. CERS, similarly, is a slower-growing (at least relative to '23 consensus expectations) significantly unprofitable company that trades at 2.75x '23 Revenue. TBIO, is a high-growth cash incinerator with a diverse mix of revenue streams that trades at .8x '23 Revenue. For our base case, we assume 1.0x revenue. Adding up the sum of the parts, the pro forma net cash position, inclusive of five months of cash burn (for a June '23 Close) and an assumption for taxes, implies $2.64 / share in net cash, combined with $.60 from the product segment gives us a price target of $3.24 or 54% upside from today's close at $2.10.
Disclosure
Our firm currently holds a long position in this security which can currently be considered a long-term holding. Our research is completely independent and based on public information, our proprietary research, and our analysis of that information. While Author has tried to present facts it believes are accurate, Author makes no representation as to the accuracy or completeness of any information contained in this note. The reader agrees not to invest based on this note, and to perform his or her own due diligence and research before taking a position in ENZ. Reader agrees to hold harmless and hereby waives any causes of action against author related to the note above. As with all investments, caveat emptor.